Community is all about people living together and having common goals. The earth is big and connecting with everyone was difficult before the social media era. You can now reach out to anyone with just a click and interact with them wherever they are in the world. This will to interact with people and sharing interests led us to revolutionize communication. Communities would create events so they would meet up and bring new ideas. Beach parties, concerts, a local charity, whatever the event may be, people would hear these on social media and interested people would register themselves. The problem that arose with this initiative was that centralized parties had access to our personal data which also includes our credit card details and much more, which trespasses our privacy. Phoenix DAO stepped in with a solution to the community through blockchain technology. Phoenix DAO is a platform where digital identity is used to power next-generation Defi apps. It consists of Phoenix identity which is powered by ERC- 1484 which not only creates but also links your identity to different dApps for ease of use. To know more about Phoenix DAO visit Pheonix DAO's website.
What is the Event Marketplace?
Arranging a house party? Build an event in the marketplace, and invite everyone. The Event marketplace is a destination where everyone is allowed to connect through making their events from anywhere in the world. Everyone can access this market, create their own event, decide their audience capacity, and sell tickets. You can buy tickets for other events as well. These tickets act as ERC 721 tokens which are NFTs. It has a variety of communities that arrange events and are accessible to anyone interested.
What makes it different from other platforms?
The PhoenixDAO Event marketplace contains a spark based on your identity, once created users can have the confidence to know it is safe from bad acting as it is a decentralized application that does not have any company surveillance that can access your data. You are the sole owner of your identity and your assets. Moreover, it works on the InterPlanetary File Storage (IPFS) network. IPFS is a distributed database system that stores and gives access to files, websites, applications, and data. It is a secure network where desired content could be retrieved from different nodes in the server with the security of hashes. Learn more about IPFS in IPFS: A Basic Guide
Overview
Menu Bar
There are different landing pages for every element in the Event marketplace. The menu bar sums them up in one single place. This bar consists of 3 sections: Events & Tickets, Manage Events, and Tools.
These sections contain different tabs which go as follows:
1. Events & Tickets
– Upcoming Events
The name speaks itself. This tab shows all the upcoming events in the coming dates with all the related information. You can just tap on the event and get to see whatever is present and buy the tickets there and then. Furthermore, it also shows popular events that are trending at that time.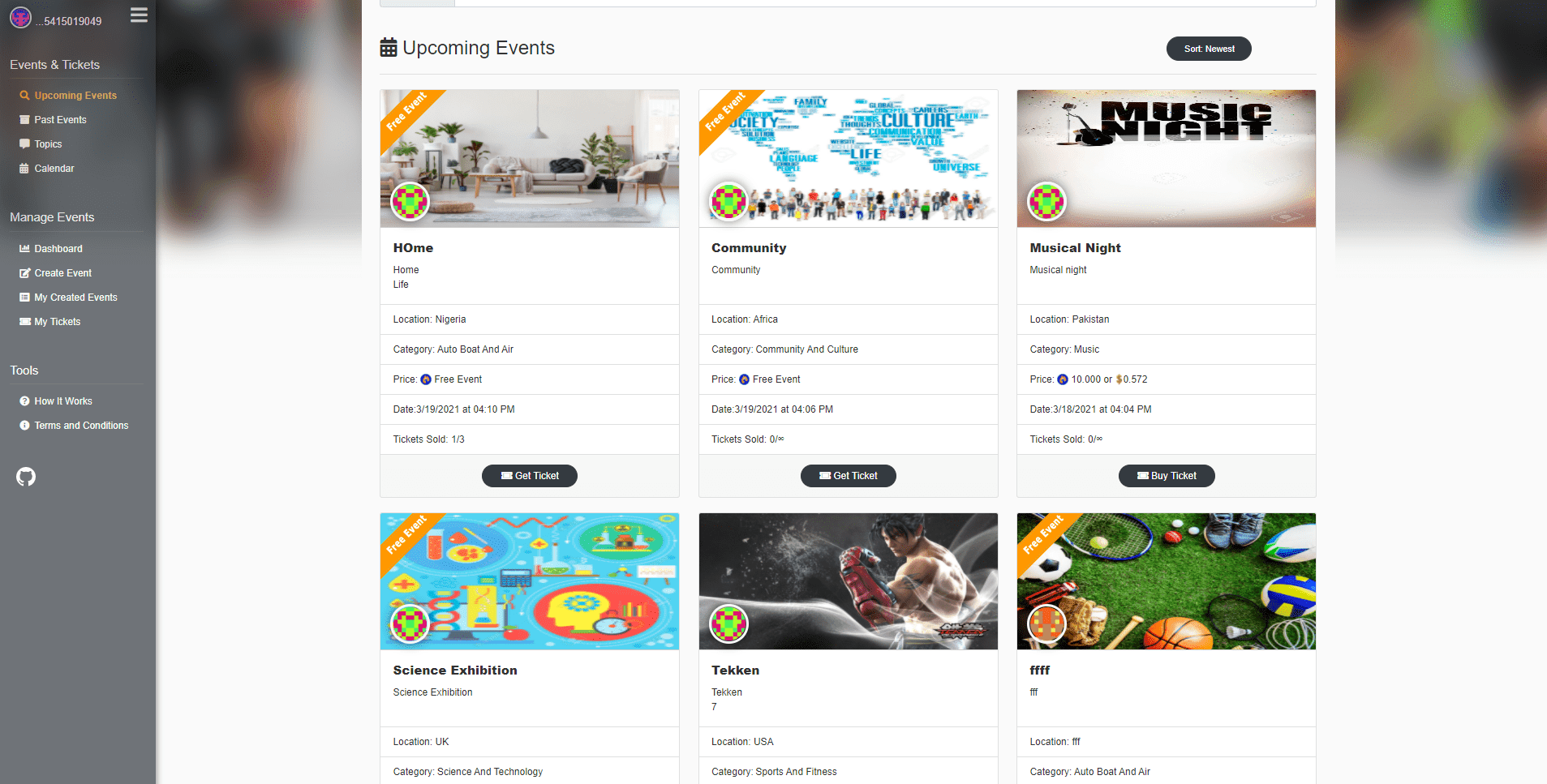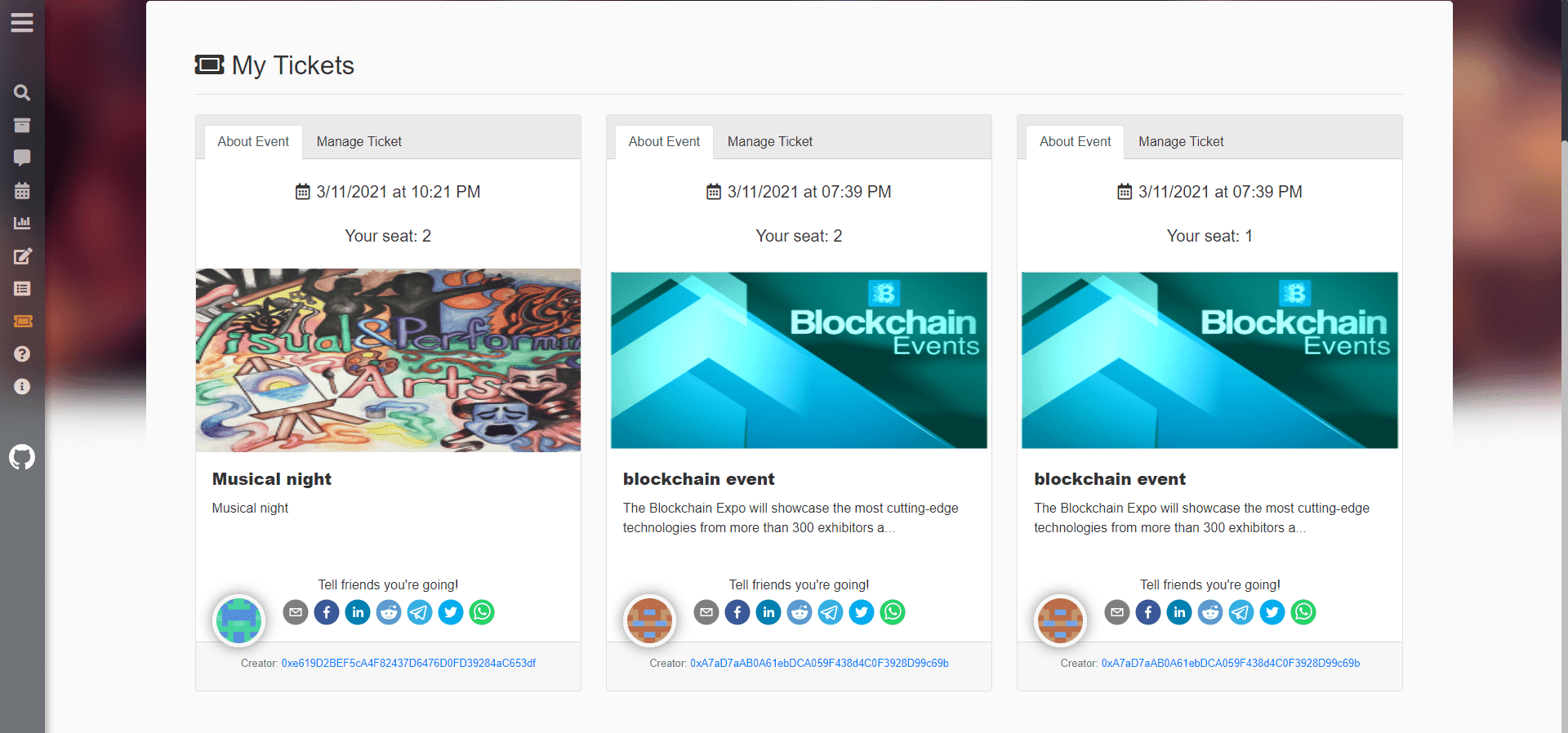 – Past Events
This tab includes all the events that have been completed or outdated. It will show data like how many tickets were sold and other related information.
– Topics
This tab includes all the topics on which events are created. For example, A fitness marathon would be on the topic of "Sports & Fitness". This helps when you want to see events related to a specific section like the one in the example.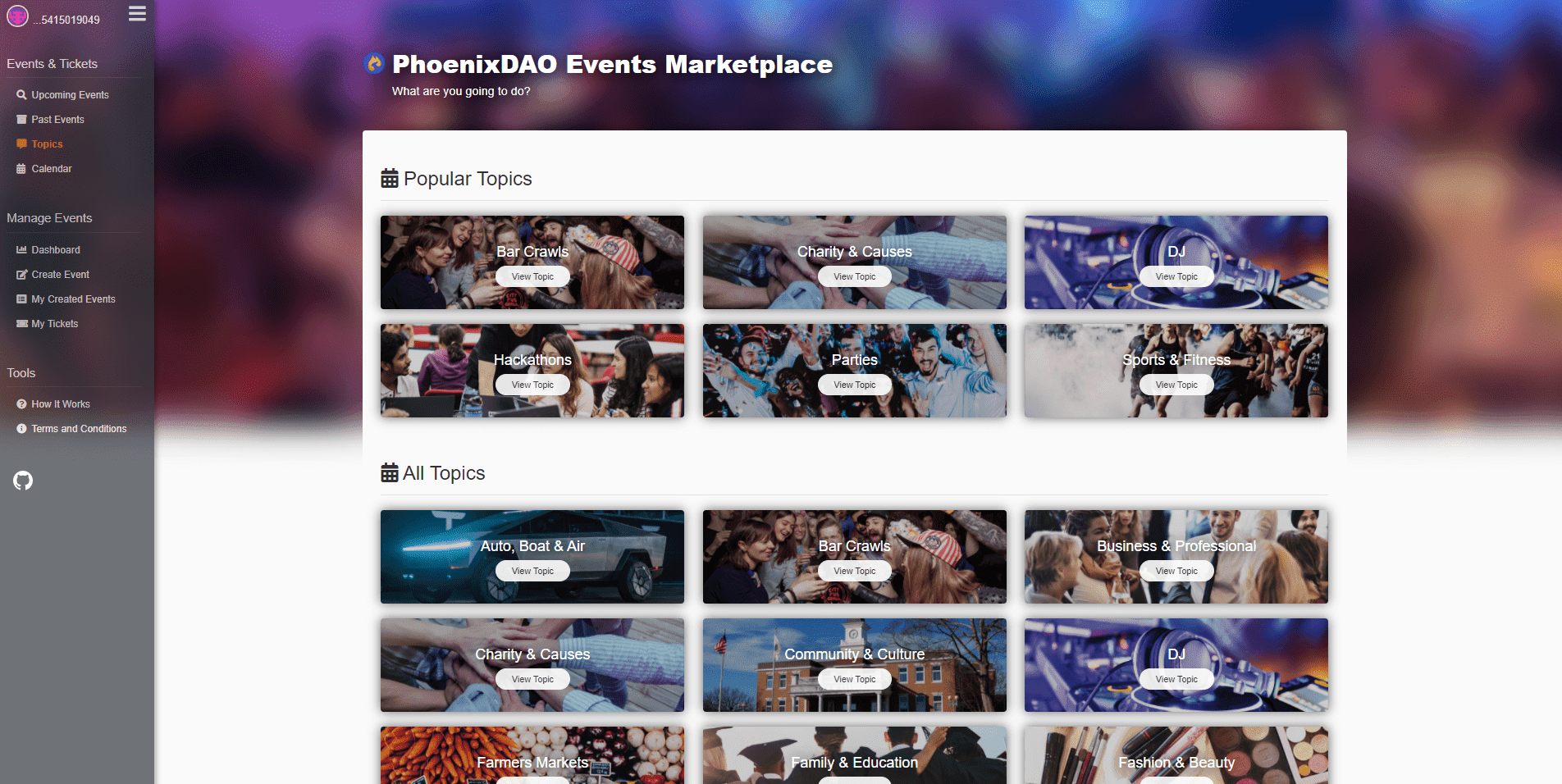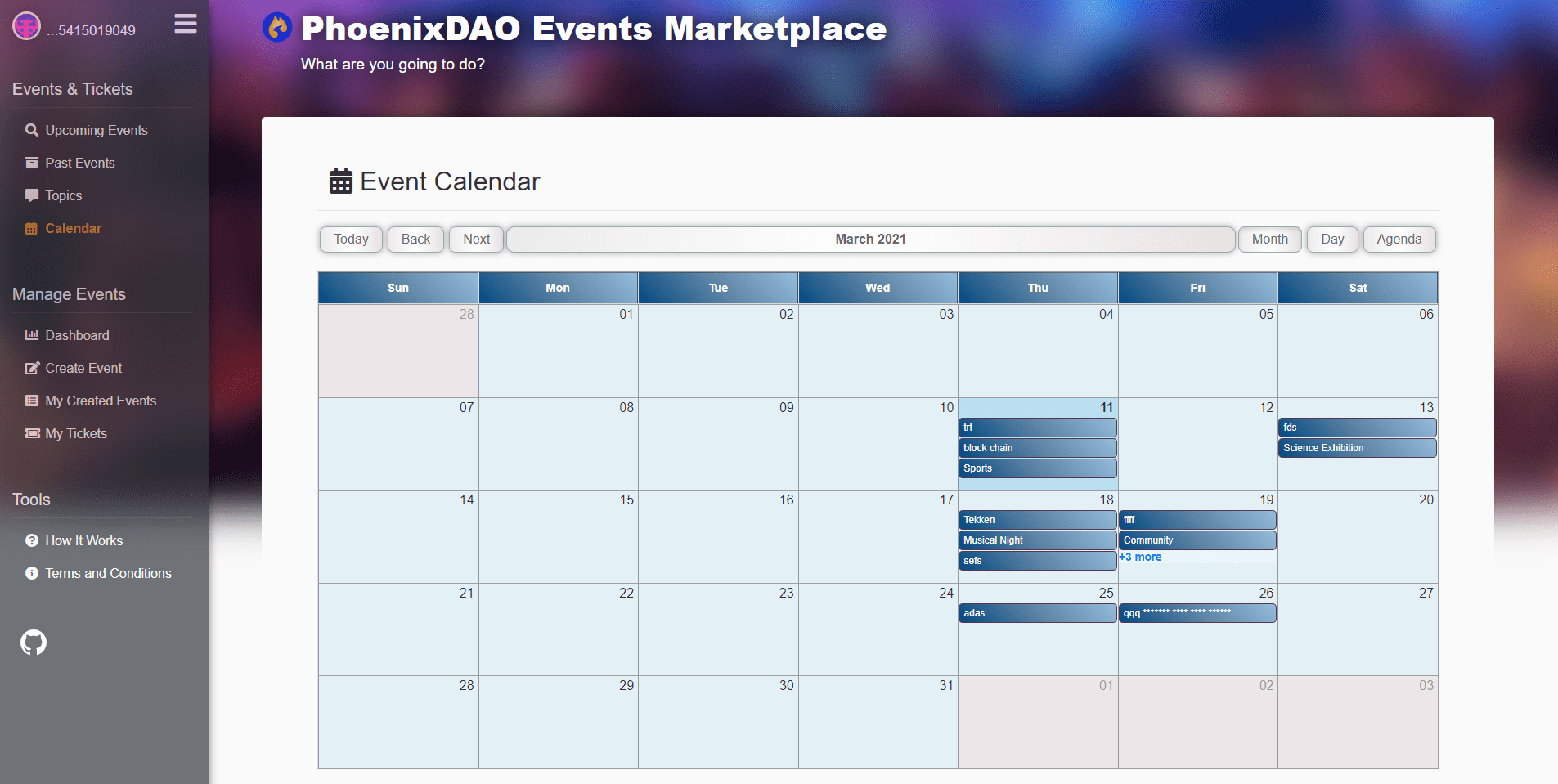 – Calendar
The calendar tab includes a calendar that places all your events date and day wise just like a Google Calendar except this the calendar is auto-updated. Whenever you register for an event the calendar is automatically updated to the timing, day, and date of the event.
2. Manage Your Events
– Dashboard
The dashboard is a tab where events organized by the user are shown. It shows all the information like the number of events made, number of tickets sold (in units & revenue), and many more.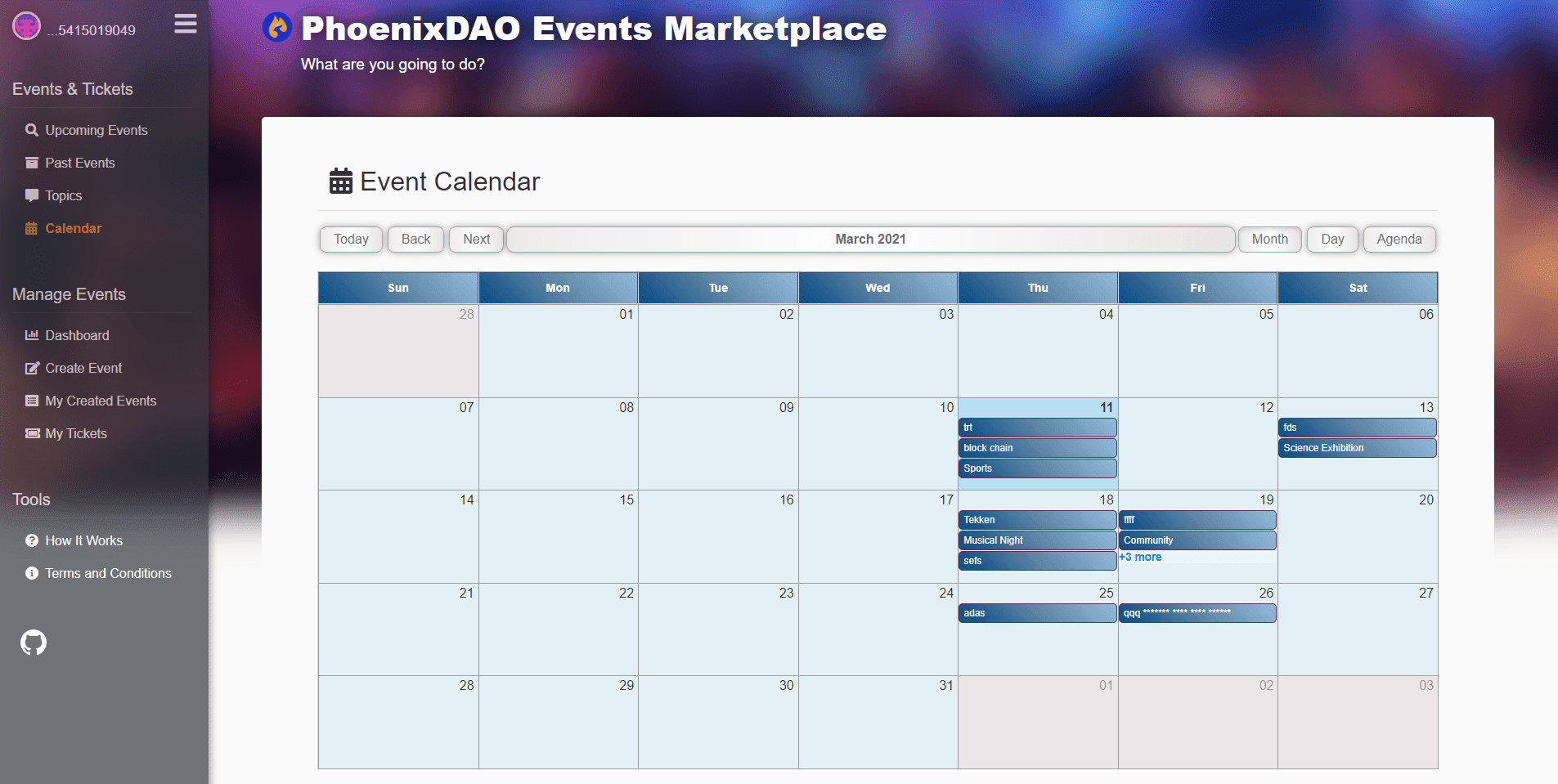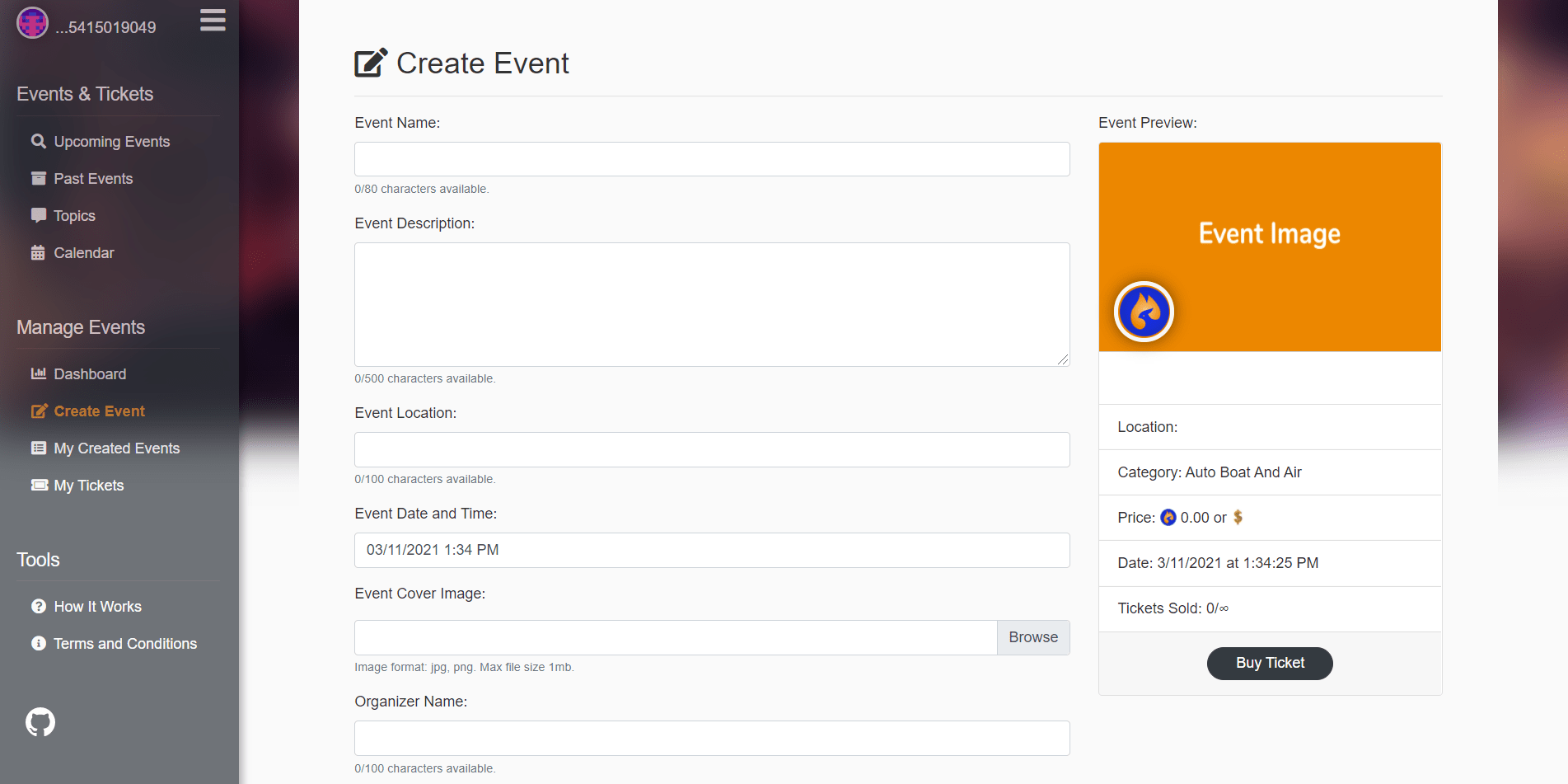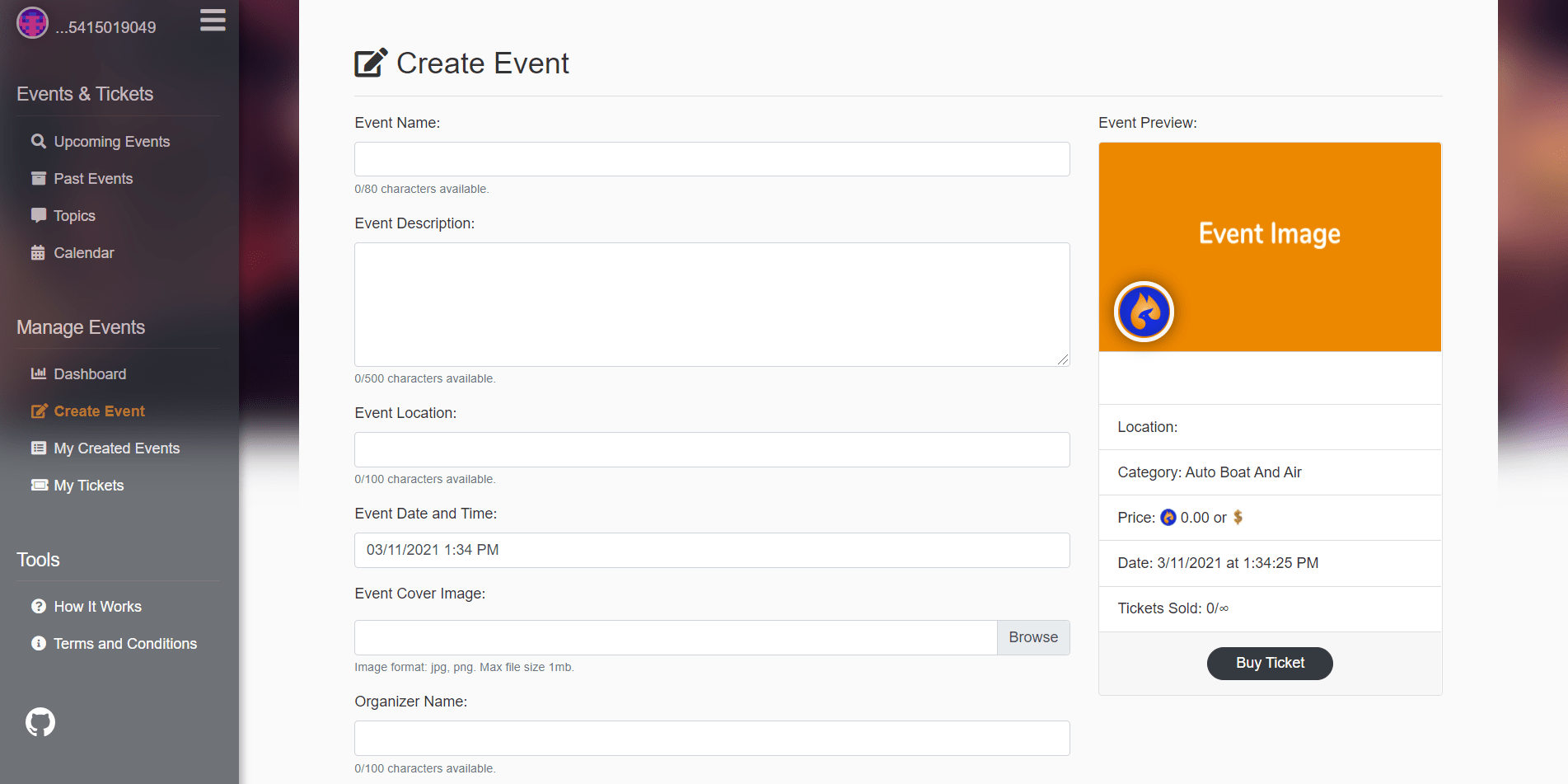 – Create an Event
This tab includes a form that helps you create your own event. It has certain requirements that you need to fill like the name of the event, description of the event, location, price of a ticket, and much more. This also includes the option to limit your tickets so that you can have a limited crowd at the event. Keep in mind the tickets can only be bought and sold in token PHNX and USD.
– My Created Events
This tab shows the events you have created till now. It includes 2 tabs by the name "Active Events" & "Past Events", each showing events respective to their names.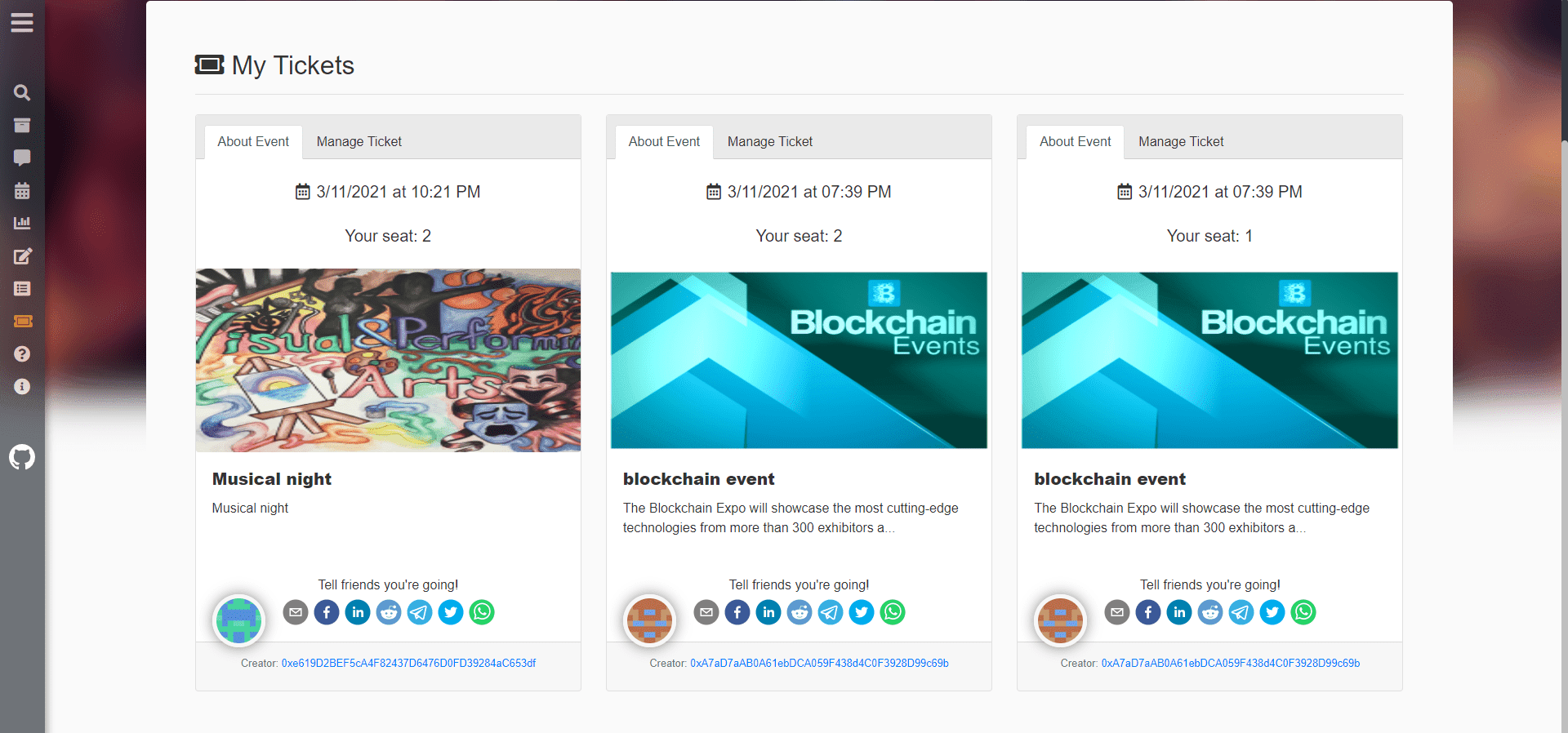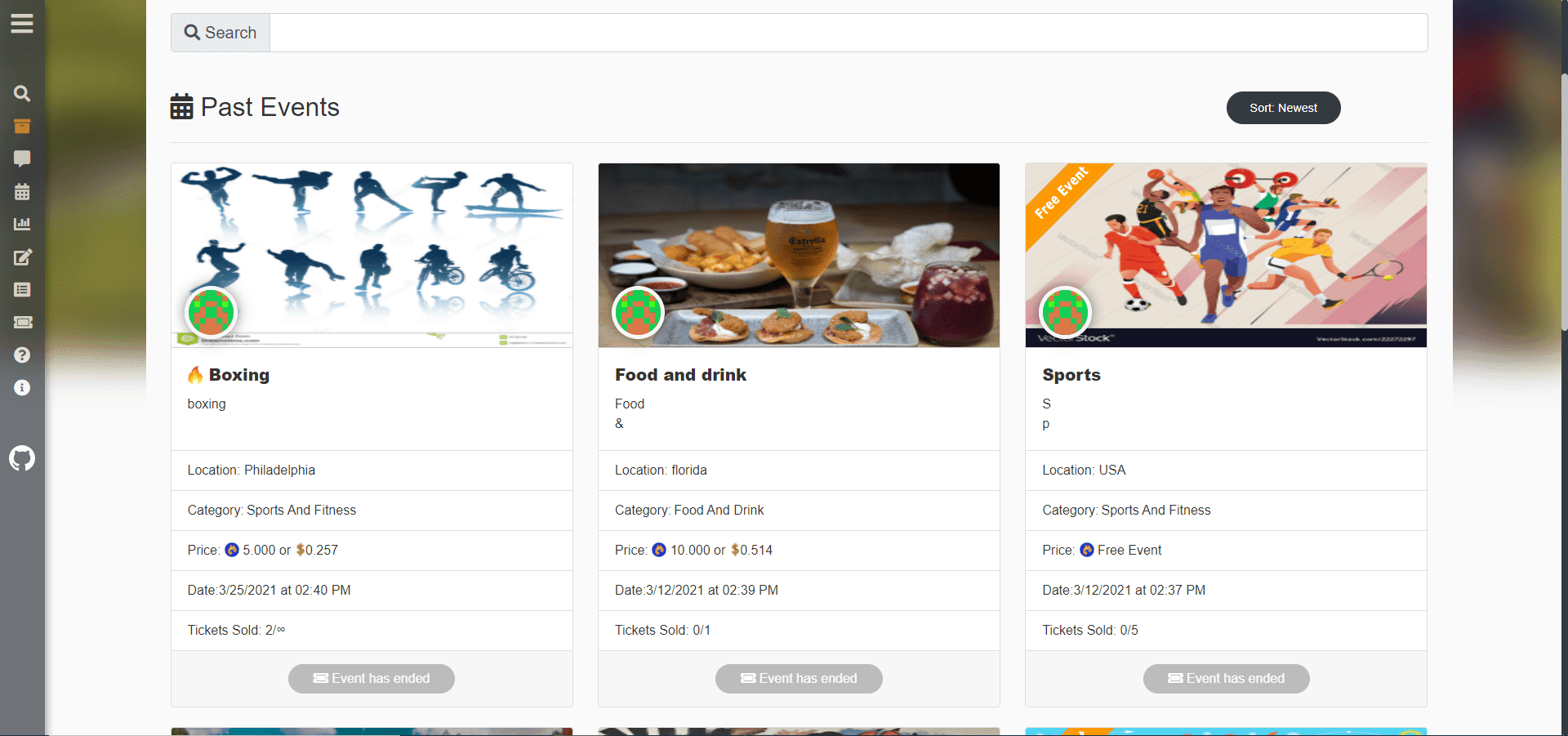 – My Tickets
This tab shows the ticket that you have bought recently and in the past as well. If you have not bought any then it would redirect you to the "Upcoming Events" tab.
3. Tools
– How it works
This tab is the first page you land on when you open the website. It requires you to login with your Numio app. It also contains a brief tutorial video on how the app works.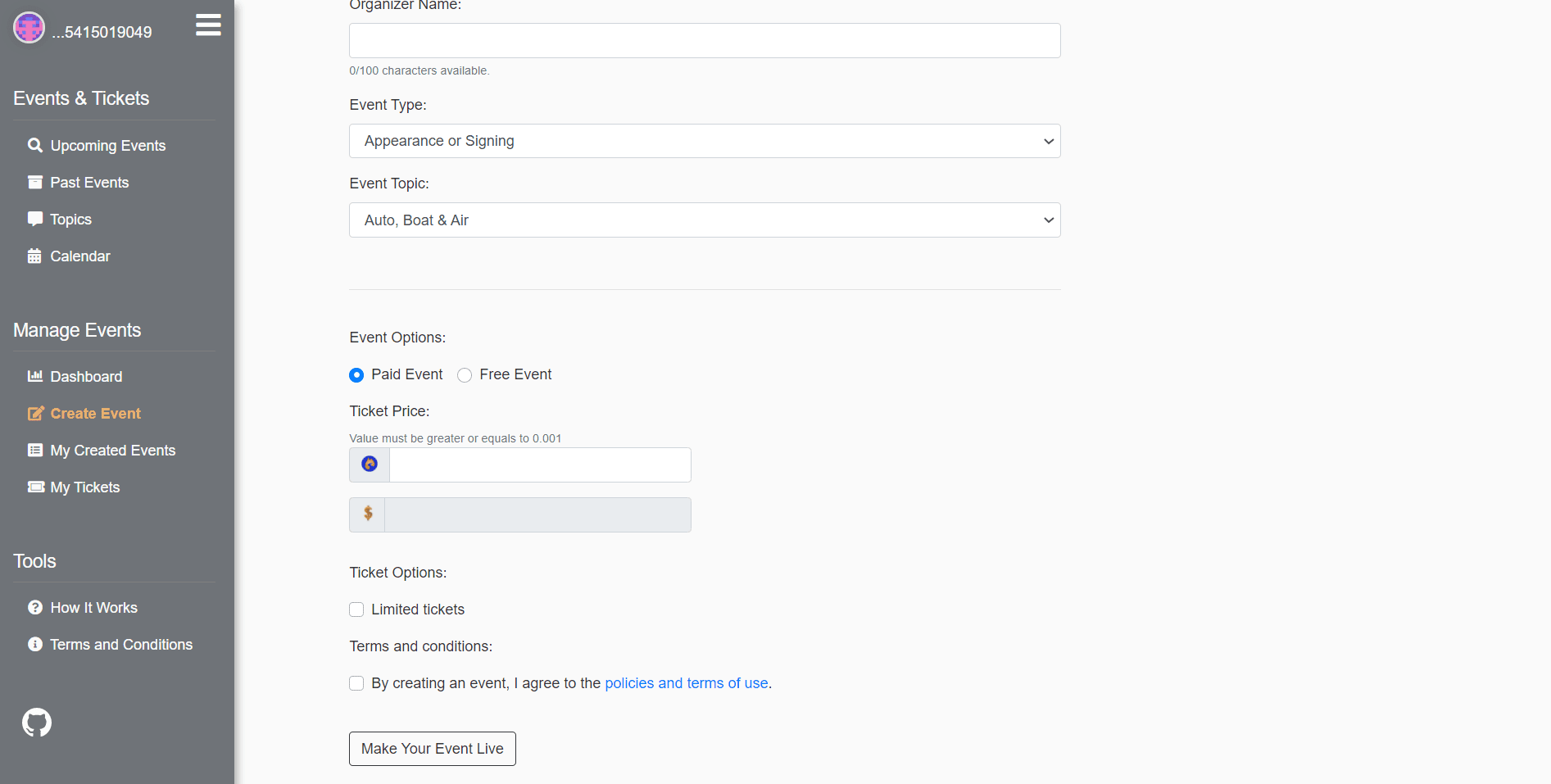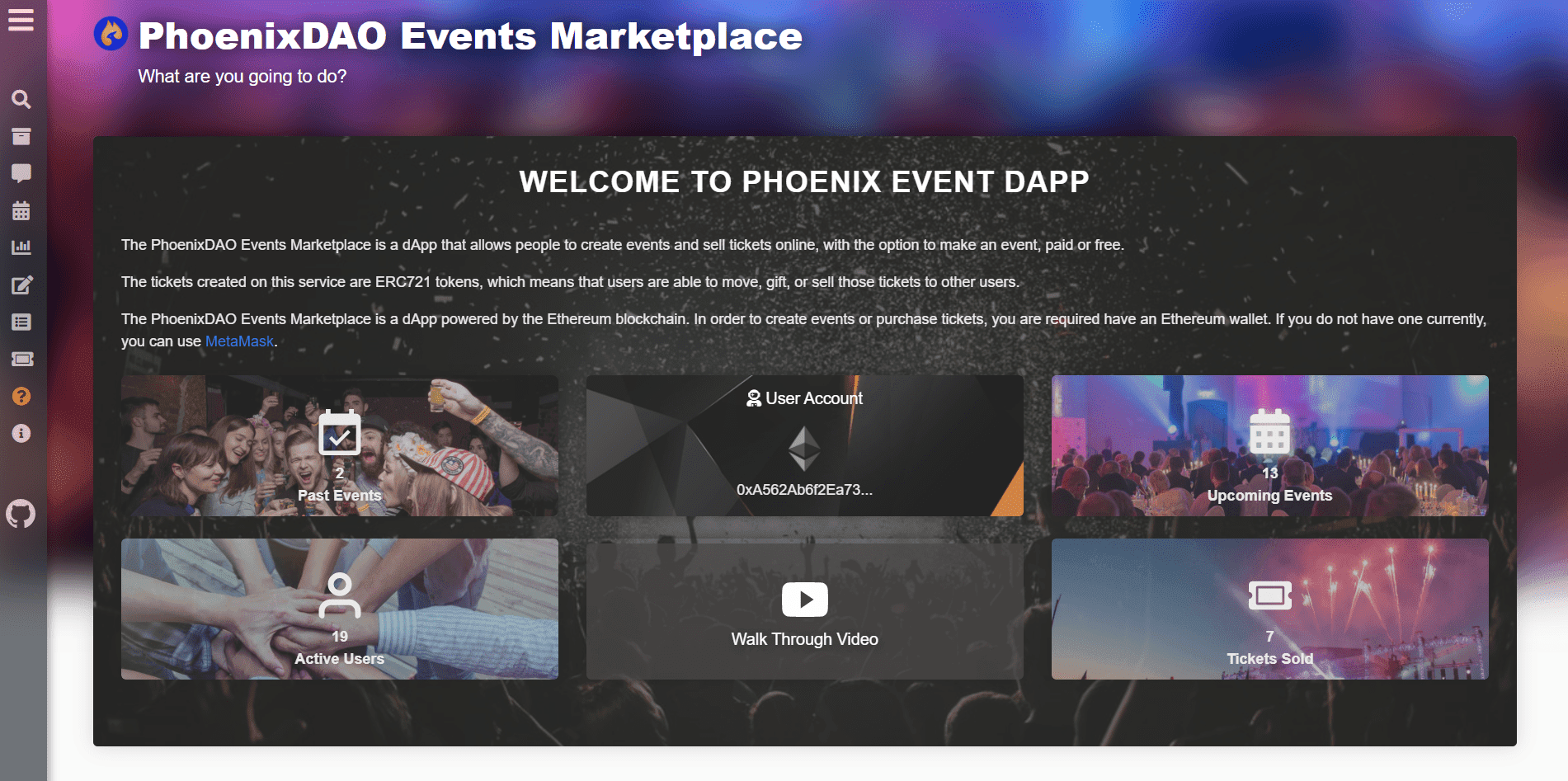 – Terms and Conditions
This is a detailed document tab where all the terms and conditions are defined by Phoenix Dao on how to use the app.
How does it work:
First thing is that we need to connect the wallet to the app through the Numio app. This is necessary to get everything in working because all the buying and selling is done through the wallet.
1. How to create your own event?
To create your own event, go to the "Create Event" tab. There would be a form that would be asking for your details about the event like the name of the event, location, description, image, and much more. You have to define the type of topic the event relates to so that a person interested in the event can find it in the relevant topic. Most importantly, there is a section where you define whether your event would be free or paid. To make things more interesting, you can limit your crowd by defining the number of participants/tickets in the form.
Once your event is created, set it live on the marketplace and let people discover it. You can know your stats about the event in the dashboard tab where you can see the number of tickets sold in units & revenue as well.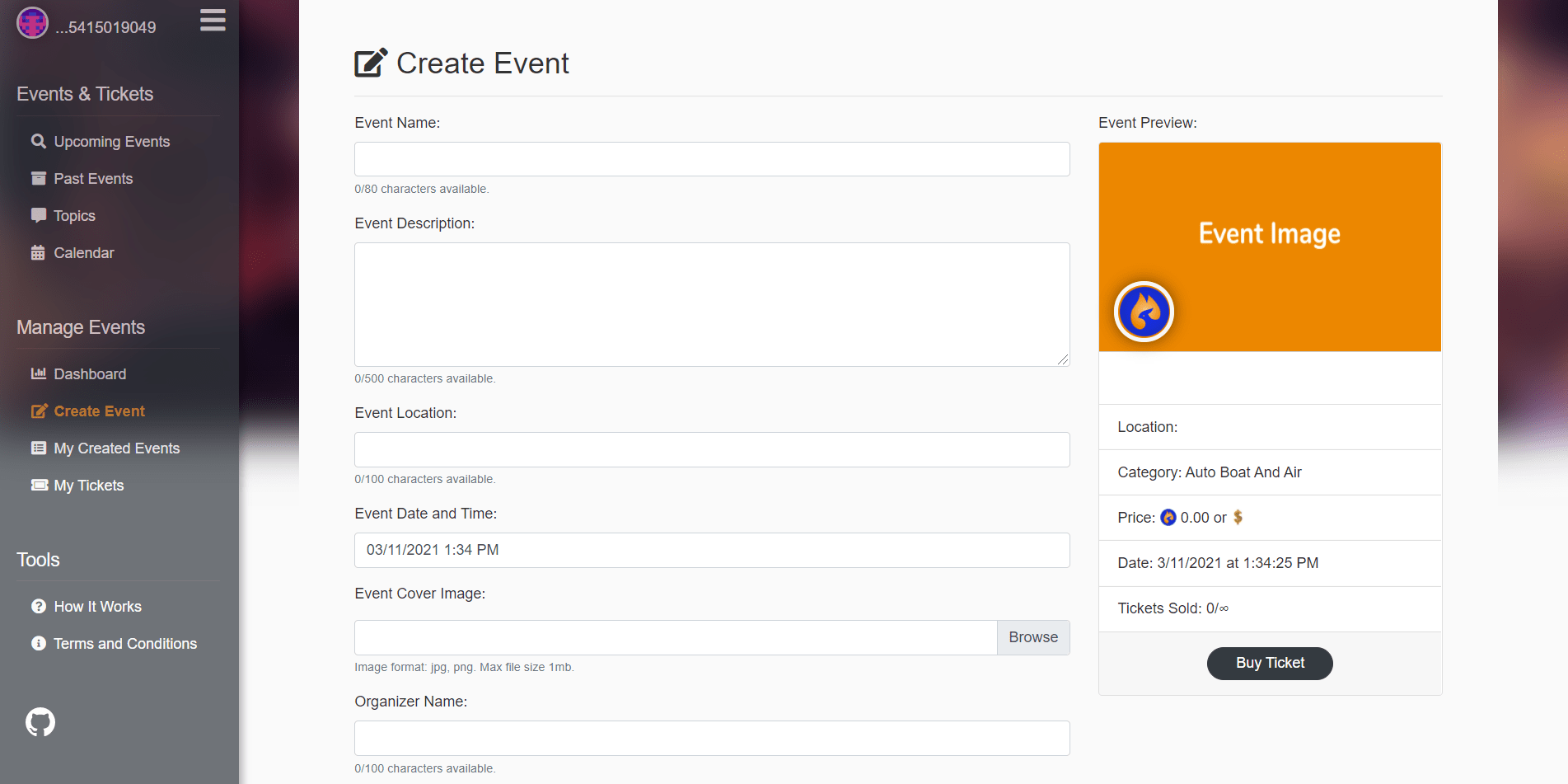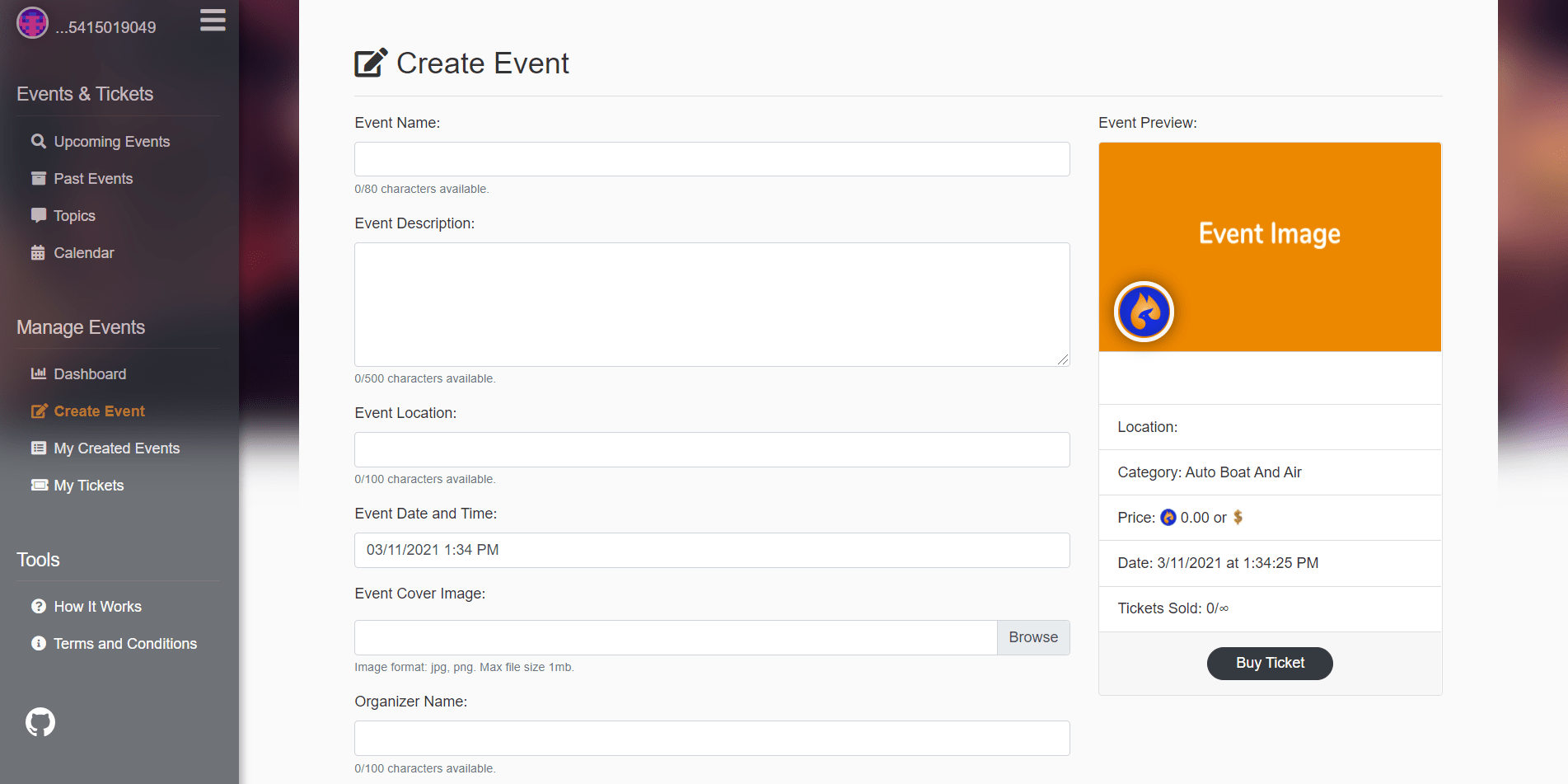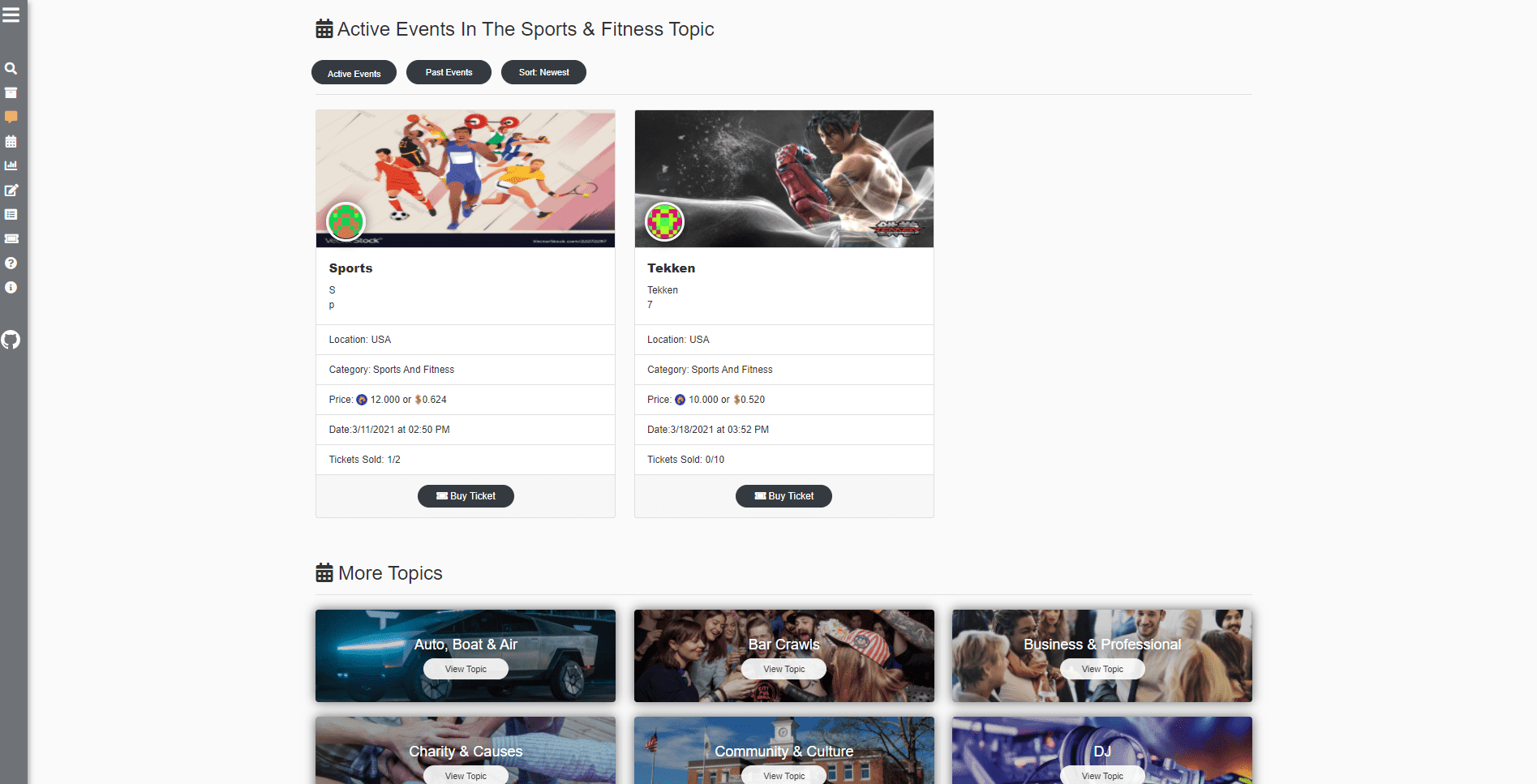 2. Get involved in an event
Are you a fitness freak? Planning to go to a party but don't know where are the major parties being held? Event Marketplace has got you covered. Just go to the Topics tab and choose between a variety of topics. When you enter a topic, you can see all the events related to that topic. You can click on the event and get all information about the event and buy the tickets then and there.
3. Transfer of tickets
Interested in an event and think your friend would be too? Or just want to surprise them with a ticket to a hyped event. Buy the tickets and transfer the ticket to your friend to their Ethereum Address. Once you buy the tickets go to the My Tickets tab > Choose your ticket > Click manage ticket > Option appears of Send Ticket > Type Ethereum address of the receiver > send and done.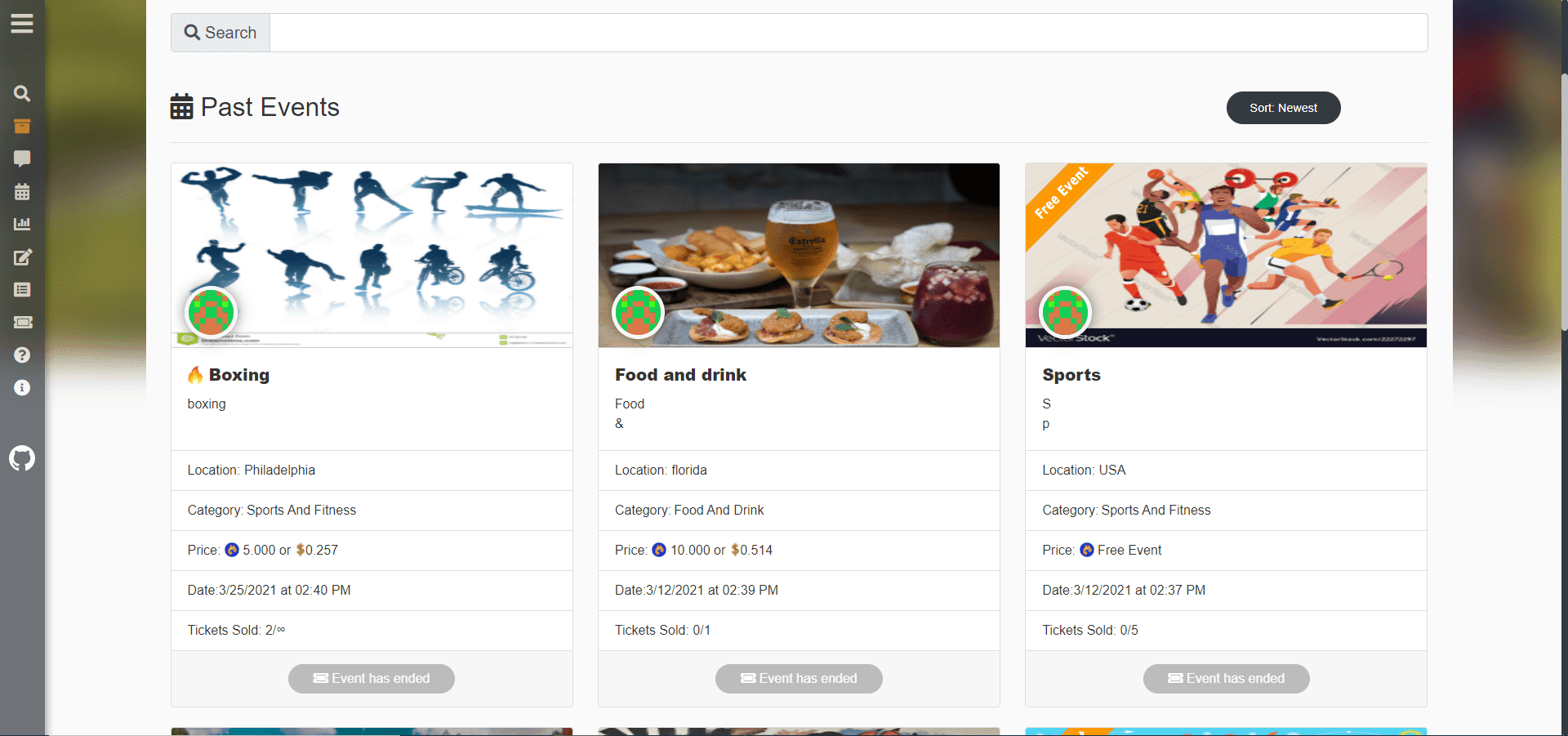 4. Verification of ticket
When you host an event, there is a big possibility of party crashers who just barge in with fraudulent tickets. Event marketplace resolves this problem by having a verification function. When you enter your created event, the last row says "Confirm Purchase". Here you can check whether the following Ethereum address has bought a ticket or not. Just enter the address, if the address is unique it would say that address doesn't have a ticket and if not, then it would say that ticket is already been purchased at this address.
5. Uniswap UI
Out of PHNX tokens? Don't worry as the Dashboard tab includes a feature in the bottom right corner which lets you buy tokens then and there. You don't have to go to different places to get your token swapped, just click on the Uniswap tab and get it done.

Current Standings
The Event Marketplace was tested on the Rinkby Testnet by some of the greatest testers available in the market. Next step, is a soft launch on the main-net with a limited audience as the gas fee is surging right now. Moreover, Layer 2 scalability is to be added soon in the marketplace to make transactions more easier and efficient.